Neutral Liquid Soap
For clean and cared for hands, in different formulas:
with Liquid Cream
with Cosmetic Oils
with Organic extracts
Marseilles
Protezione
CON ANTIBATTERICO
Tea tree oil ed echinacea
Sapone purificante coadiuvato da ingredienti con una naturale azione igienizzante.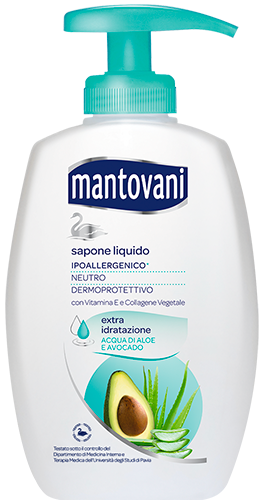 Idratazione
Acqua di Aloe e Avocado

Ingredienti super per una pelle rinfrescata, più morbida e liscia, dolcemente profumata.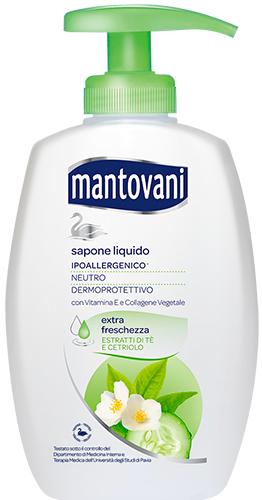 Freschezza
Estratti di te' e cetriolo
Armonia di ingredienti e aromi verdi, fruttati e acquatici per ridare sprint e vitalità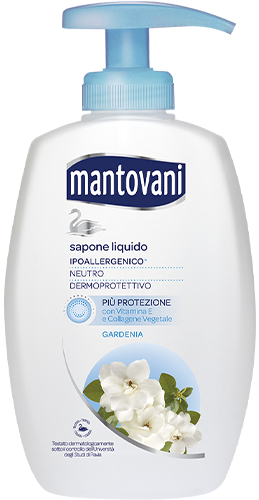 Gardenia
A great classic of floral fragrances, with fresh and clean notes. Formula with Rice Milk, for a nourishing effect.
Talc and White Flowers
This Mantovani fragrance has been a reference point for years for fans of poudreè notes, intense and soft together. Formula with Liquid talc.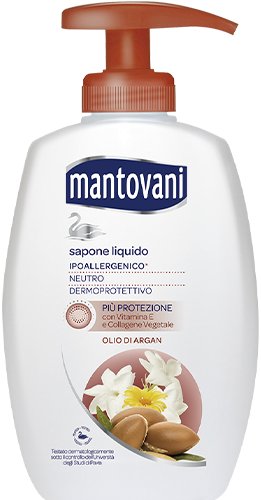 Argan Oil and Jasmine
Enriched with Organic Argan Oil, it best offers the anti-oxidative and nourishing properties of this ingredient which maintains skin's tone and beautiful appearance. Jasmine fragrance, the floral touch of a fragrance that indulge eastern beauty rituals.
3 Cosmetic Oils
Contains sweet Almond Oil, Camellia Oil, and Macassar Oil, nourishing and rehydrating mix which enhances skin's tone, softness, and shine. Fragrance with eastern, charming, and relaxing tones.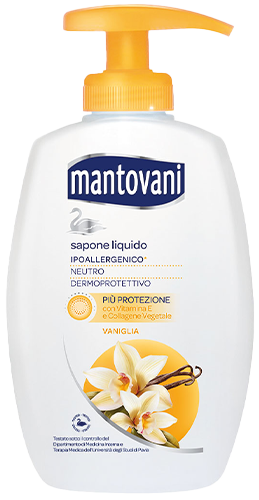 Vanilla
Sweet and aromatic fragrance, restoring and relaxing, a gentle note on skin. Formula with Yogurt Protein, which helps to maintain skin's physiological balance.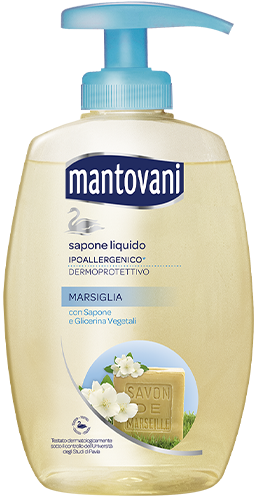 Marseilles
In liquid form with the characteristics and virtues of the most authentic and traditional soap. The result is a gentle product, with moderate foam, which leaves skin smooth and soft. With the fantastic, clean fragrance of citronella.